Page 22 - DIY Investor Magazine | Issue 38
P. 22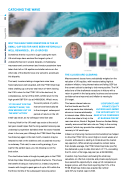 THE BEST OF BRITISH OPPORTUNITY
  Aug 2023 22
DIY Investor Magazine ·
An insight into the Schroder British Opportunities Trust plc
With high standards of corporate governance and a rich heritage of entrepreneurialism, the UK has an abundance
of exciting investment opportunities for investors to consider within the small and mid cap space. The Schroder British Opportunities Trust (SBO) was launched in December 2020 to tap into this potential, facilitating and driving growth across both publicly-listed and privately-owned businesses.
The ability to invest across both public and private opportunities is a key differentiator for the trust. Normally, funds are restricted to investing in one or the other but, with its ability to access both public and private markets, for SBO, this means a broader universe of exceptional opportunities from which to select the best of Britain's fastest-growing young businesses.
With its acknowledged expertise in both public market and private equity investing, Schroders is uniquely well-placed to capture this broad opportunity. It has a long and impressive track record of investing in public companies and is particularly well-known for its small and mid-cap expertise. Meanwhile, with more than £10bn in assets under management, Schroders Capital has been investing successfully in private companies for more than 25 years.
QUALITY GROWTH CHARACTERISTICS
Irrespective of whether they are listed or not, the businesses SBO seeks to invest in have some common characteristics. The core focus is to invest in high quality companies that have strong balance sheets and a long runway for growth.
Typically, these businesses will exhibit strong pricing power (which is particularly beneficial in these times of high inflation), robust management teams, and will already be delivering good revenue growth. There is a preference for investing
in businesses that are already profitable, but if the team is investing in loss-making companies, it ensures they are well- funded and possess a clear, and near-term route towards profitability.
'EXCEPTIONAL OPPORTUNITIES FROM WHICH TO SELECT THE BEST OF BRITAIN'S FASTEST-GROWING YOUNG BUSINESSES'
     All of these characteristics should ensure relatively resilient revenue streams, even in a challenging economic environment and, on balance, that is precisely what the managers have seen from the portfolio over the last eighteen months.
AN IMPRESSIVE PORTFOLIO
At its most recent financial results (30 September 2022), 64% of SBO's portfolio was invested in private businesses, spread across nine businesses. The public part of the portfolio has more positions but at smaller weights. Stock turnover is low, although a series of takeovers in 2022 led to modestly higher activity than the team would normally expect.
Euromoney, EMIS and Ideagen were all sold after receiving bids, with the proceeds recycled into other opportunities that have strong and sustainable growth prospects.
Whilst it isn't part of the strategy to explicitly target takeover candidates, this series of deals (including the acquisition of Waterlogic from the private equity portfolio) does suggest the team has been successful in identifying undervalued businesses.
M&A activity has been the catalyst for realising that undervaluation and the portfolio managers believe the portfolio consists of attractive opportunities that could also be targets.