Page 20 - DIY Investor Magazine | Issue 36
P. 20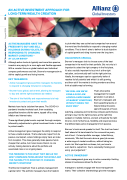 Dec 2022 20
WILL WE SEE MORE M&A ACTIVITY IN THE UK?
    Downing Strategic Microcap may benefit if M&A buyers get active in the UK market... by David Kimberley.
DIY Investor Magazine · Even prior to the start of 2022, UK equities were trading at lower valuations than almost all of their major peers. Given the cloud of gloom that's hanging over the country at the moment, it probably won't surprise readers that there hasn't been much of a change to that dynamic over the course of the year.
According to data published by Yardeni Research at the start of October, the UK stock market is trading at an average forward price-to-earnings ratio of 9.0. This is almost 50% lower than the US market, about 25% below Japan, and almost 15% below the emerging market average.
This isn't a new trend and a litany of reasons have been given to justify it over the years. One is that pension funds and other institutions have lowered their allocations to UK stocks.
There is also the fallout from Brexit and other political uncertainty. Lastly, the UK has large weightings to financials, commodities, energy, and mining. These are not the sort of growth businesses that have performed well over the past decade and it is hard to imagine investors wanting to pay large premiums for their shares moving forward.
Compounding this has been the increase in value of the dollar relative to the pound, and indeed almost all other currencies. In the year to 13/10/2022, the pound had lost almost 20% of its value against the greenback.
If UK stocks were already looking comparatively cheap for dollar buyers previously, they are now looking even cheaper.
'M&A ACTIVITY HIT RECORD LEVELS LAST YEAR ACCORDING TO REUTERS, WITH 55 LONDON-LISTED COMPANIES RECEIVING TAKEOVER BIDS'
'IF ANY HOLDINGS ARE SUBJECT TO M&A ACTIVITY, THEN DSM SHOULD BE BETTER POSITIONED COMPARED TO SOME OF ITS PEERS'
And it wouldn't be new if we did start to see more merger and acquisition (M&A) activity as a result. Over the past couple of years we've seen buyers develop something of a penchant for UK firms. M&A activity hit record levels last year according to Reuters, with 55 London-listed companies receiving takeover bids, up from 40 in 2020.
Bids for takeover targets averaged a 47% premium to their share price last year. That was lower than 2021 where the equivalent figure was just over 60%. However, it's worth keeping in mind a couple of factors here.
One is that much M&A is typically debt driven, and if rates rise then acquirers may be less willing to pay such high premiums. On the other hand, the private equity market has grown significantly over the past few years.
Even though the amount of cash private equity funds have at their disposal is down relative to its 2020 peak, private capital levels still stood at $3.2trn globally at the end of Q3 of this year, according to data provider PitchBook.
More funds sitting on dry powder means more interest in the same companies, something that's likely to drive bids higher. If some of this capital does end up being deployed in the UK public markets, then Downing Strategic Microcap (DSM) may stand to benefit.
The trust's managers, Judith MacKenzie and Nick Hawthorn, take a unique approach to investments, looking for firms at the smaller end of the UK stock market, where they look for pricing inefficiencies that are driven, in part, by a lack of research coverage.