Page 18 - DIY Investor Magazine | Issue 38
P. 18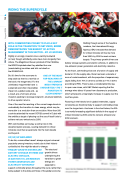 Aug 2023 18
DIY Investor Magazine ·
THE ROAD TO NET ZERO: BRUNNER INVESTMENT TRUST
In this latest podcast the team look at the factors to consider when investing around the theme of decarbonisation and how companies with strong decarbonisation credentials, able to drive the energy transition, are considered within the investment universe.
What shapes the pathway to net zero and what will be required to get there? Which companies could be well placed to capitalise and therefore provide good investment returns for investors? Electricity generation, energy storage and transportability all come under the spotlight.
Joe Lynam: Hello and welcome to the latest instalment of Connected Investor from the Brunner Investment Trust. I
am Joe Lynam, the BBC presenter and Newstalk business editor, and in this podcast we're going to pick up on a theme of increasing relevance for investors – decarbonisation - what electrification means for markets and of course, the Brunner Fund.
I'm joined by the co-leads of the Brunner Investment Trust, Christian Schneider, who you will know, but also by new boy, Julian Bishop, co-lead of the Brunner portfolio. Good evening to both of you.
Christian Schneider: Hi.
JL: Julian, as the new kid on the block, what's Brunner's position when it comes to backing companies with strong decarbonization credentials?
Julian Bishop: Thanks. It's a very good question. We see decarbonization as one of the most significant themes in coming decades; we are talking about effectively a complete re-engineering of the global economy.
Fossil fuel usage is deeply embedded into almost every economic activity there is, so huge industrial investment will be needed, which will drive growth for a lot of businesses providing relevant products and services.
At Brunner, we like to serve with all of our investments. We balance quality, value and growth. I think it's clear that the growth is there; whether the quality and value is, is another question.
For quality, we need barriers to entry, sustainable competitive advantages, high returns on invested capital, things like that; for value, we look at free cash flow generation.
Whether we back a company with strong decarbonization credentials depends on the balance of those three factors.
The more you read about the journey to net zero, the more that you realize that it just requires electrifying everything; electric cars are a good example, but we need to do that across all segments of the economy.
The International Energy Agency suggests only 18% of today's usage comes from electricity; the rest is primarily fossil fuels,
burnt in situ - an engine, boiler or furnace.
That ratio will have to increase whilst the total amount of energy consumed increases because of economic growth, particularly in emerging markets.
So huge, huge capital investment, and lots more electricity required if we are to hit net zero by 2050. I think that as we find ways to move it around and store it, there'll be lots of opportunities for Brunner in our investments.
JL: Christian, quite a few big, energy intensive companies, whether in chemicals, mining or the production of oil and gas, have stated goals to reach net zero, by 2050 or whenever, but getting there is tough, because oil and gas is so profitable still.