Page 17 - DIY Investor Magazine | Issue 38
P. 17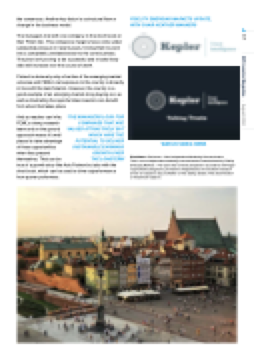 THIS IS A MARKETING COMMUNICATION. PLEASE REFER TO THE KEY INFORMATION DOCUMENT (KID) BEFORE MAKING ANY FINAL INVESTMENT DECISIONS.
      WHATEVER YOUR GOALS, WHEREVER THERE'S OPPORTUNITY,
17
Aug 2023
DIY Investor Magazine ·
      THERE'S BRUNNER
The Brunner Investment Trust PLC
Established in 1927, The Brunner Investment Trust seeks income as well as capital growth from companies around the world. Because we're not tied to any one country or sector, we're free to seek potential opportunities wherever they may be: from European energy to Japanese pharmaceuticals, Swiss healthcare to French luxury goods, U.S. cloud computing to Taiwanese components. As an investment trust, Brunner enjoys other advantages too, such as being able to draw on revenue reserves to support dividend payments in tough times. Although past performance is no guide to the future, we've paid a rising dividend to our shareholders for 50 consecutive years, earning the Association of Investment Companies' coveted Dividend Hero status. So visit us online to learn more or to register for regular updates and insights, and find out how Brunner could help you achieve your investment goals.
www.brunner.co.uk
  INVESTING INVOLVES RISK. THE VALUE OF AN INVESTMENT AND THE INCOME FROM IT MAY FALL AS WELL AS RISE AND INVESTORS MAY NOT GET BACK THE FULL AMOUNT INVESTED.
A ranking, a rating or an award provides no indicator of future performance and is not constant over time. You should contact your financial adviser before making any investment decision. This is a marketing commu- nication issued by Allianz Global Investors GmbH, an investment company with limited liability, incorporated in Germany, with its registered office at Bockenheimer Landstrasse 42-44, D-60323 Frankfurt/M, registered with the local court Frankfurt/M under HRB 9340, authorised by Bundesanstalt für Finanzdienstleistungsauf- sicht (www.bafin.de). The summary of Investor Rights is available at https://regulatory.allianzgi.com/en/in- vestors-rights. Allianz Global Investors GmbH has established a branch in the United Kingdom deemed au- thorised and regulated by the Financial Conduct Authority. Details of the Temporary Permissions Regime, which allows EEA-based firms to operate in the UK for a limited period while seeking full authorisation, are available on the Financial Conduct Authority's website (www.fca.org.uk).