Page 21 - DIY Investor Magazine | Issue 38
P. 21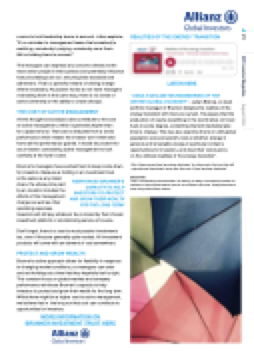 So a company that is headquartered, residing and doing most of the business in a country where the rule of law is not applying, you want an extra haircut in order to make it interesting.
So two companies, same price, same valuation doesn't make sense if there is this extra added risk to that. So that's the approach we're taking here at this point.
JL: Thank you very much. I think we'll call it a day there. Make sure you're subscribed to Connected Investor wherever you get your podcasts, so you don't have to go hunting for it next time.
Thank you all for listening, and if you want to get in touch, go to our website, www.brunner.co.uk From Christian from Julian and from me Joe Lynam. Ta-ta for now.
21
Aug 2023
DIY Investor Magazine ·
    Investing involves risk. The value of an investment and the income from it may fall as well as rise and investors might not get back the full amount invested. Past performance does not predict future returns. For further information contact the issuer at the address indicated below. This is a marketing communication issued by Allianz Global Investors UK Limited, an investment company, incorporated in the United Kingdom, with its registered office at 199 Bishopsgate, London, EC2M 3TY, www.allianzglobalinvestors. co.uk. Allianz Global Investors UK Limited company number 11516839 is authorised and regulated by the Financial Conduct Authority. Details about the extent of our regulation are available from us on request and on the Financial Conduct Authority's website (www.fca.org.uk).
The duplication, publication, or transmission of the contents, irrespective of the form, is not permitted; except for the case of explicit permission by Allianz Global Investors UK Limited. The Brunner Investment Trust PLC is incorporated in England and Wales. (Company registration no. 226323). Registered Office: 199 Bishopsgate, London, EC2M 3TY.