Page 23 - DIY Investor Magazine | Issue 38
P. 23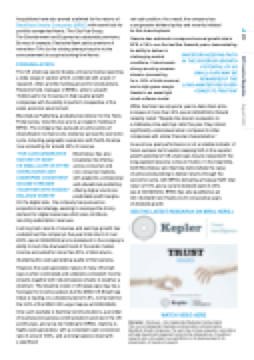 Whilst software and IT services represent the largest two sector weights in the portfolio, the fund is well diversified across a range of other sectors, including consumer services, healthcare, leisure and financial services. This reflects the breadth of the opportunities the managers have been able
to identify, which also de-risks the portfolio from being too concentrated.
Performance from the portfolio so far has been modestly positive, despite the challenging backdrop in 2022. The trust's net asset value (NAV) has increased by 2.4% since launch, at the time of writing.
The private portfolio has delivered very positive progress, with an aggregate fair value increase of 48%, based on strong operational progress. Whilst this is encouraging, it has been offset by the public element of the portfolio, where the share prices of many small-to-mid sized UK growth businesses have struggled.
This doesn't necessarily reflect poor operational performance, but rather, negative market sentiment has held valuations back.
REPRESENTATIVE CASE STUDIES
Examples that reflect the quality of the opportunities the managers have invested in include Easypark and Mintec. Easypark is a leading parking technology business that helps drivers find, manage and pay for parking, as well as electric vehicles charging points, through their phones.
The business model is already well-established, and it offers considerable growth potential as it rolls out its technology in new territories. Its ambitious management team is currently driving a geographical expansion which means that it can now help drivers in more than 25 countries across over 3,200 cities.
23
Meanwhile, Mintec is the world's leading independent provider
of commodity price data and market intelligence to global food
and manufacturing brands. Its cutting-edge software platform delivers highly valued data and analysis on thousands of
different commodities and other food ingredients, which enable
Aug 2023 its customers to implement more efficient and sustainable procurement strategies.
With expertise developed over more than three decades,
Mintec has capitalised on its superior data collection and
analysis capabilities to build a formidable market position. A
DIY Investor Magazine · subscription-based business model provides excellent revenue visibility, and its continued global organic growth should deliver higher margins as it scales.
AN EXCITING PROPOSITION
The SBO team (Co-Portfolio Managers Rory Bateman and Tim Creed, together with team members Uzo Ekwue and Pav Sriharan), view the portfolio as a very exciting proposition right now.
They have found abundant opportunities to invest in high quality growth businesses that are able to thrive even in a challenging economic environment. Indeed, the current economic challenges add to SBO's future potential because they mean the managers can access those opportunities at extremely attractive valuations.
Importantly, SBO's private equity allocation is not focused
on the pre-IPO or 'crossover' part of the market, where a considerable amount of capital has flowed in recent years leading to excess valuation risk. Nor is it targeting earlier-stage venture capital companies, where the recent market downturn has had a notably negative impact, putting some businesses under significant funding risk.
  The company is already profitable, and its technology is proven,
In contrast, SBO's private allocation is focused on later-growth capital and small-to-mid market buyout stage companies. which de-risks the next phase of its scaled development.
 'THE PRIVATE PORTFOLIO HAS DELIVERED VERY POSITIVE PROGRESS, WITH AN AGGREGATE FAIR VALUE INCREASE OF 48%'
Here, valuations have in some cases contracted, but declines have been relatively modest. Meanwhile, robust operational performance has meant that the impact of earnings growth has more than offset the valuation contraction.