Page 24 - DIY Investor Magazine | Issue 38
P. 24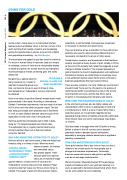 Aug 2023 24
DIY Investor Magazine ·
'HIGH QUALITY GROWTH BUSINESSES THAT ARE ABLE TO THRIVE EVEN IN A CHALLENGING ECONOMIC ENVIRONMENT'
DOUBLE DISCOUNT
The SBO investment case is currently enhanced by two forms of discount. Firstly, the UK is among the cheapest of any regional stock markets at present, with a 40% valuation discount to global peers.
This provides investors with the opportunity to invest in UK assets at a discount to what they would be worth if they were listed on practically any other market.
Secondly, over the course of 2022, SBO's share price slipped to a discount to net asset value. Prior to this, the shares had traded close to NAV, but investors can now buy the shares at a discount of more than 30% to NAV.
This discount perhaps reflects concern that the private element of the portfolio may be vulnerable to valuation downgrades in the coming months.
Other private equity investment trusts have also slipped to a discount but, in the case of SBO, the portfolio managers strongly believe those concerns are misplaced.
As explained above, the operational performance of the private portfolio has been very positive in aggregate and momentum remains generally strong, suggesting the direction of travel for valuations may actually be up not down.
This reflects the resilient characteristics the team is seeking to invest in and the maturity of its portfolio companies, which are already at or close to profitability, and growing revenues at a rapid pace.
Nevertheless, the combination of these two discounts provides a window of opportunity for investors to currently buy a high quality, fast-growing portfolio of UK businesses at a very attractive price.
     CLICK HERE TO FIND OUT MORE ABOUT THE SCHRODER BRITISH OPPORTUNITIES TRUST >
WHY INVEST IN SBO?