Page 9 - DIY Investor Magazine | Issue 34
P. 9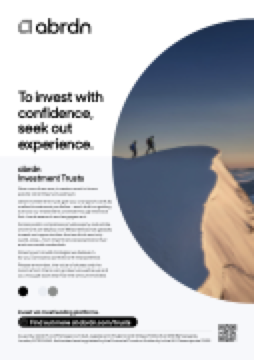 To invest with confidence, seek out experience.
 abrdn
Investment Trusts
Now more than ever, investors want to know exactly what they're investing in.
abrdn investment trusts give you a range of 21 carefully crafted investment portfolios – each built on getting to know our investment universe through intensive first-hand research and engagement.
Across public companies, private equity, real estate and more, we deploy over 800 professionals globally to seek out opportunities that we think are truly world-class – from their financial potential to their environmental credentials.
Allowing us to build strategies we believe in. So you can build a portfolio you can rely on.
Please remember, the value of shares and the income from them can go down as well as up and you may get back less than the amount invested.
Request a brochure: 0808 500 4000 invtrusts.co.uk
Issued by Aberdeen Asset Managers Limited, registered in Scotland (SC108419) at 10 Queen's Terrace, Aberdeen, AB10 1XL, authorised and regulated in the UK by the Financial Conduct Authority. Please quote 2754.