Page 9 - DIY Investor Magazine | Issue 30
P. 9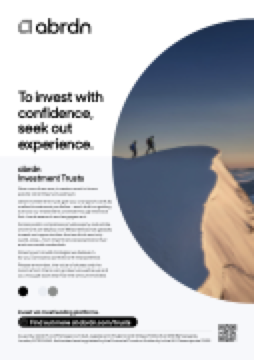 We strive to explore further.
Aberdeen Standard Investment Trusts
We believe there's no substitute for getting to know your investments first hand. That's why we look to analyse and speak to companies intensively before we invest in their shares and while we hold them.
Focusing on first-hand company research requires a lot of time and resources. But it's just one of the ways we aim to seek out the best investment opportunities on your behalf.
Please remember, the value of shares and the income from them can go down as well as up and you may get back less than the amount invested.
Request a brochure: 0808 500 4000 invtrusts.co.uk
    Issued by Aberdeen Asset Managers Limited, registered in Scotland (SC108419) at 10 Queen's Terrace, Aberdeen, AB10 1XL, authorised and regulated in the UK by the Financial Conduct Authority. Please quote 2611.