Page 10 - DIY Investor Magazine | Issue 38
P. 10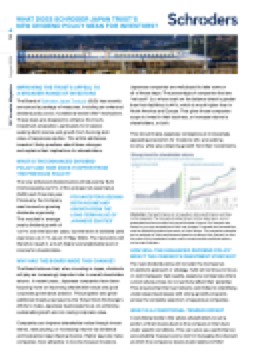 THE COMPOUND EFFECT OF ENVIRONMENTAL SOLUTIONS
   Aug 2023 10
DIY Investor Magazine ·
Jon Wallace, Noelle Guo and Grisha Milushev reflect on progress on ecological challenges during the almost 36 years since the Brundtland Report
    As always, in managing the Jupiter Green Investment Trust we are aiming at long-term capital growth, and we think it essential to seek resilient performance during a currently challenging time for the global economy, in which interest rates have risen and companies are feeling the effects of higher financing costs.
Our philosophy is to select the leading companies across
six themes: clean energy, green mobility, circular economy, green buildings and industry, sustainable agriculture and land ecosystems, and sustainable oceans and freshwater systems.
Within those themes, the Jupiter Green Investment Trust is focused on companies – many of them on the smaller end of the market capitalisation spectrum – that are at the forefront of innovating technological solutions to sustainability challenges ('innovators'), as well as companies that are already rapidly delivering proven sustainable solutions in their markets ('accelerators').
We believe this approach should deliver attractive capital growth to shareholders over the long-term. We are encouraged that many environmental solutions companies are now showing resilient real-world growth. Looking back over the last few decades, that has not always been the case.
'ENVIRONMENTAL AND SOCIAL ISSUES ARE VITAL TO ECONOMIC PROSPERITY AND PROGRESS'
A PIVOTAL MOMENT: THE BRUNDTLAND REPORT
'Our Common Future', also known as the 'Brundtland Report' was published in October 1987. This landmark report
became a foundational document in the history of sustainable development. Initiated by the United Nations, and drawing on submissions by governments, scientists, and research institutes across the world, the Brundtland Report set out a global agenda for change.
It argued that environmental and social issues are vital to economic prosperity and progress. As the report states, 'Ecology and economy are becoming ever more interwoven locally, regionally, nationally, and globally into a seamless net of causes and effects.' 1
Moreover, the Brundtland Report accelerated a growing understanding that our economy operates within our ecological systems, not the reverse. As the report puts it, 'We have in the past been concerned about the impacts of economic growth upon the environment.
We are now forced to concern ourselves with the impacts of ecological stress – degradation of soils, water regimes, atmosphere, and forests upon our economic prospects.' 2
In calling for action, it laid the groundwork for the earth Summit in 1992, the Rio Declaration, the UN Commission on Sustainable Development, and serves as an important benchmark by which to measure progress.