Page 28 - DIY Investor Magazine | Issue 36
P. 28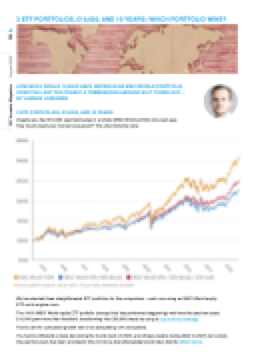 HOW MIGHT THE BALANCE OF POWER SHIFT IN CONGRESS AFTER THE MIDTERMS?
 Dec 2022 28 Although the first half of 2022 was quiet, multiple major
The Senate is currently split 50/50 with Vice President Kamala
legislative and executive actions passed this summer.
Harris casting tie-breaking votes on items that only require a
simple majority – by Hugh Gimber and Meera Pandit.
The first was the USD 280 billion bipartisan CHIPS and Science DIY Investor Magazine · In the upcoming midterms, 35 Senate seats are up for election,
Act, which includes USD 52 billion for semiconductors and funding for science and technology research and development. 21 currently held by Republicans and 14 held by Democrats. If
The second was the Inflation Reduction Act (IRA), a package they can maintain their current seats, Republicans only need to
flip one more to take control of the Senate, but the balance of
that includes climate spending, prescription drug pricing reform, and tax reform.
power remains too close to call.
All 435 seats are up for election in the House of Representatives, and the Democrats currently have a four-seat majority. Typically, big swings occur in midterm election years. The president's party has lost House seats in 17 of 19 midterm elections since World War II and Senate seats in 13 of 19.
The average seat loss has been almost 27 seats in the House and three to four seats in the Senate. This historical pattern, compounded by the reapportionment and redistricting processes following the 2020 Census results, should favour Republicans.
To add to these factors, midterms are often a referendum on the new administration and the economy. The president's approval rating has improved recently but is still near its lows, partly due to 40-year high inflation which is weighing on the consumer.
POLICY: WHAT IS THE OUTLOOK FOR POLICY BEFORE AND AFTER THE MIDTERMS?
Politics attracts the headlines, but ultimately it is policy,
not politics, that impacts the economy and markets. The administration notched two major policy achievements in 2021: a USD 1.9 trillion Covid stimulus package and a USD 1.2 trillion bipartisan infrastructure package.
'THE PRESIDENT'S APPROVAL RATING HAS IMPROVED RECENTLY BUT IS STILL NEAR ITS LOWS'
   The third item is the extension of the student loan payment moratorium to 31 December 2022 from 31 August 2022, and forgiving up to USD 10,000 in student loans (up to USD 20,000 for Pell Grant recipients) for individuals making less than USD 125,000 a year.
'WE ARE LIKELY TO EXPERIENCE POLITICAL GRIDLOCK DURING THE NEXT TWO-YEAR TERM'
Going forward, however, if the midterms play out as history suggests and we have some form of divided government, we are likely to experience political gridlock during the next two- year term.
Republicans and Democrats have already compromised on infrastructure, semiconductors and technology, and defence spending in response to the war in Ukraine. There are few remaining areas for further bipartisan cooperation, and in fact we could see budget standoffs that lead to government shutdowns.
Although both parties came together on fiscal stimulus during the last recession, if the US enters recession after the midterms, especially if it's a mild one, we are unlikely to see fiscal stimulus from divided government. From an economic perspective, less spending and therefore less borrowing should lead to lower deficits, which is positive for federal finances but prolongs the fiscal drag, resulting in slower economic growth.