Page 28 - DIY Investor Magazine | Issue 38
P. 28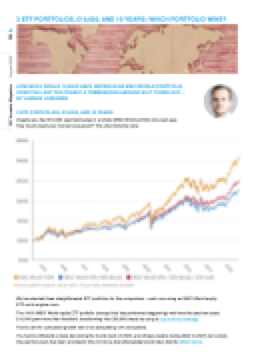 Aug 2023 28
DIY Investor Magazine ·
FSF offers strong ESG credentials and potential returns with low correlation to traditional assets...by David Kimberley
Assuming its existing pipeline of projects are seen through
to fruition, Foresight Sustainable Forestry (FSF) will plant approximately 9m trees in the UK over the next 2 years, creating over 4,000 hectares of newly forested land in the process.
This is equivalent to about a third of all tree planting that took place in the UK over the course of 2022.
Planting new trees provides two key benefits to the UK. Firstly, forests, including those managed commercially on a rotational basis for supply of timber, act as carbon sinks, meaning they take more carbon out of the atmosphere than they release.
Although it's easy to forget amidst a constantly changing news cycle, the UK government does still have a net zero target, aiming to reduce 1990 emissions levels to zero by 2050.
In reality this will be difficult to achieve by cutting emissions alone. But as an October 2022 report from Energy Monitor noted, the eight countries that are already at net zero have managed to achieve this largely by having extensive natural carbon sinks. Much of this is due to forestry. For example, Suriname is carbon neutral due to having 93% forest cover.
The UK is unlikely to replicate this but it does illustrate the potential that FSF's investments have in helping the country hit its carbon neutral targets.
Also FSF will provide high quality sources of certified local timber to buyers. Demand for timber globally is already causing huge amounts of illegal, unsustainable harvesting.
'THE AFFORESTATION SITES FSF INVESTS IN HAVE, AT LEAST SO FAR, SEEN SUBSTANTIAL UPLIFTS TO VALUATION'
FSF is thus in a good position to offer an alternative supply of sustainable timber as global demand rises, particularly given the UK currently imports about 80% of its timber and wood products.
At the same time, buyers in the UK will know that FSF is a high quality, sustainable supplier, thus helping to meet their own internal ESG policies.
This may go some way in explaining why the afforestation sites FSF invests in have, at least so far, seen substantial uplifts to valuation. For those unfamiliar with the term, these are unplanted land which the FSF managers acquire and then transform into new forests and woodland.
THE BEST OF BOTH WORLDS?
        For example, the WWF estimated in 2021 that 94% of Brazilian
'THE RETURNS THOSE AFFORESTATION SITES GENERATED ILLUSTRATE THE LACK OF CORRELATION BETWEEN FSF'S timber is illegally harvested. Assuming the World Bank estimate
that timber demand is going to quadruple over the next 25
RETURNS AND TRADITIONAL ASSET CLASSES'
years is accurate, this problem is only going to get worse.