Page 46 - DIY Investor Magazine | Issue 36
P. 46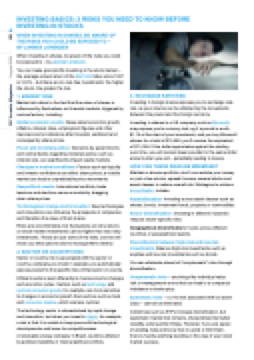 Dec 2022 46
DIY Investor Magazine ·
THE FUTURE OF FUNDRAISING?
The long-term impact of fundraising will be interesting; many sectors that were at a premium have seen the trusts they contain grow significantly in recent years by issuing new shares and IPOs in these sectors also found the wind at their backs with investors preferring to pay a small premium at flotation rather than a chunkier one once a trust is up and running.
Most of these trusts still have extensive pipelines, so they will be hoping their premiums return or they may need to pick and choose their projects.
The trust sector is adept at reinventing itself so we may see some creative solutions to this problem as well.
Amazingly, there have been no new trust IPOs so far in 2022 although three are trying to get away before the year-end (Conviction Life Sciences, Long Term Assets, and AT85 Global Mid-Market Infrastructure).
We've already seen a number of trusts try to float only to pull their plans when the next wave of market volatility came along.
I've been snapping up a number of trusts that I already own
at various discounts this year, although with prices being so volatile I try not to take any figure at face value, usually double-
checking the NAV published for the previous day to make sure the discount is what it appears to be. To be honest, there have often been several trusts that look equally appealing, so I tend to work through them as and when I have funds available.
The sixth edition of The Investment Trusts Handbook will be published on 13 December — click here to order your copy (hardcover or free ebook/Kindle)
Disclaimer
Please note that I may own some of the investments mentioned above -- you can see my current holdings on my portfolio page.
Nothing on this website should be regarded as a buy or sell recommendation as I'm just a random person writing a blog in his spare time and I am not authorised to give financial advice. Always do your own research and seek financial advice if necessary!
Join me over at Money Makers
I'm now writing regular articles for Money Makers, a site set
up by Jonathan Davis, the editor of the Investment Trusts Handbook. For more information on what you get as a member, simply click here.